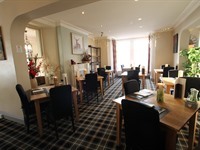 Formal Dining - Celebrations - Buffets - Lunches
Formal Dining
We can cater for 26 seated in our formal dining room.
We can create bespoke menus for larger parties or you can simply order from our current menus.
Small Wedding Receptions
We can cater for up to 26 people seated.
We currently do not have a wedding licence.
Please contact the hotel for more information regarding weddings.
Buffets & Funerals
We can cater for up to 40 people buffet style.
Please contact us for more information about our buffet menus.
Lunches
We currently offer lunch service Saturday and Sunday, however we can offer lunch for larger parties, groups and local events midweek with a pre booking.
We require a pre order for all parties over 6 people and a £10 non refundable deposit 10 days before event.