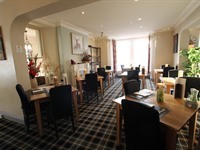 Our Restaurant
At the Uplands Inn, our food is home cooked and locally sourced, ensuring our diners get the best quality produce.
We have have a formal restaurant where you can book a table and relax for the evening with friends, family or just the two of you.
We welcome well behaved dogs and we are family friendly.
We recommend booking a table in advance with us.
We will take walk ins if possible but we cannot always guarantee a table.
Our restaurant hours are:
Monday

Closed
Tuesday

Closed
Wednesday

Closed
Thursday

5pm - 8pm
Friday

5pm - 8pm
Saturday

12pm - 2pm
5pm - 8.30pm

We can cater for allergies please contact us for more information.
Please note that we require a £10 non refundable deposit for tables over 5. If a deposit is taken and all or some of the guests do not show up or cancel within 48 hours, the deposit will not be refunded for those people.